AutoTips Jump Starting Tips page
Click Click Click Buzzzz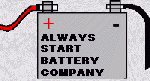 Battery Test Jump Start Diagram Preparation Tips Links to Step by Step instructions
If that is the sound you hear when you turn your key start your vehicle, instead of the purr of the engine, you may have a dead battery.
Is it the Battery: Here are a quick test to determine if the problem is likely the battery.
Turn on a light or lights --- dome light, glove box light, headlights, etc.

If they do not light, or are real dim it is probably the battery.

If they are normal brightness - turn the key to start the car.

Do the lights get real dim?

If so, it is probably a dead or weak battery.

If lights stay bright when you turn the key to start your car, the problem is likely elsewhere.
You can also try a similar experiment with the radio, heater fan, or other accessory.

Poor connections to the battery could also cause these problems. See the Battery Tips page.
Tips for being prepared ahead of time. (Based in part from suggestions and questions from AutoTips visitors)
Also see links below for important safety issues.
Batteries often fail in the weather extremes, or at inconvenient times. You may want to keep a few items handy in the trunk.

The number of your auto club -- Just call them and skip all the rest.
Jumper Cables - AutoTips suggests not skimping on jumper cables.

Will they be long enough? If your car is parked between two others (with their drivers not around )- you may need to reach from the front of your car to a car behind you.
Heavy enough to carry the current. Cheap cables may have not be able to carry the high currents to jump start a vehicle. Never try to use lamp cord.
Shop around at auto parts stores, check the quality of the clamps, flexibility of the cables.
Note wire size is rated by gauge. A smaller number for gauge is a heavier wire.

For example, lamp cord is often 18 gauge, jumper cables may be 8 or 6 gauge.

Disposable vinyl gloves -- Keep your hands free from the grease and possible battery acid on top of the batteries. Often available in the paint department of a hardware store.
Paper towels - may need to clean the battery to see the labels for + and - .
Safety glasses or goggles.
If you are not familiar with the location of the battery, a good ground, or which terminals are which, check it out ahead of time.

If you catch the clerk at the local auto parts store at a time when they aren't busy, they may be willing to walk out to your car and help you locate these items.
Click here for a simple jump start diagram.
See the links below for step by step procedures including important safety issues.
Jump-Start From Edmunds, with color photos.
Sight & Hearing Everyone with a car needs to know how to safely jump-start their car battery. You can prevent serious injury to your eyes by following these 10 simple suggestions.
Return to Tips page Return to AutoTips home page To top of page
Copyright AutoTips